Ideal Finish is the ONLY fully mobile and completely self contained detailer serving Buncombe County and surrounding areas.
Owner John Meyers Jr. has over 25 years of professional detailing experience and oversees every job, every day, ensuring that attention to detail and client satisfaction always comes first.
Manager Leo McMillan also has 25+ years in professional bodywork and detailing experience which included servicing several car dealerships in Ohio.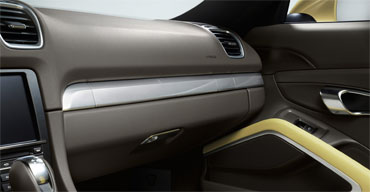 With this kind of experience and knowledge at the helm Ideal Finish professional detailers give every job their utmost attention and consideration. At the beginning of every appointment they'll listen to the client to determine the best approach for their vehicle. During the job the client's vehicle will be professionally detailed and pampered – whether it's a high end show car, or the beloved family sedan. We don't consider any job complete until the client has been informed and educated about the best way to keep their car looking sharp. Finally, when the client is completely satisfied with their vehicle, the Ideal Finish detailer will leaver their work area as neat and tidy as it was when they arrived.
While we encourage our clients to take good care of their cars, do keep in mind that there's no substitute for professional experience. We have the tools, the supplies and the know-how to to keep your vehicle maintained to the highest level. We offer convenient and affordable maintenance plans so think of us before attempting to tackle it yourself.
John has worked in many dealerships as a Foreman training detailers on how to successfully clean and prepare the vehicle for re-sale. He also has had his own business in Saint Augustine Florida for over 15 years employing 12 to 20 employees at one time. Servicing all of Saint Augustine and Jacksonville area John's Shop was voted #1 three times in a row for best Detailing Service.
Quite simply we want to deliver the service YOU want, when YOU want it, where YOU want it and at a price YOU can afford. At Ideal Finish it's really all about you! We provide customer satisfaction through expert workmanship and attention to detail. We want to be the only call you make, whether it's for your daily driver, your garage kept Hot-Rod, RV or motorcycle. Give us a call – we guarantee your satisfaction!
We use only the HIGHEST standard of cleaning equipment and chemicals. With our fully stocked trucks when we show up to do a job, we have everything we need to complete the job in a proficient manner. We carry over 150 gallons of water on-board our trucks for each job along with all Biodegradable Earth Friendly cleaning chemicals so all run-off is environmentally safe. Our on-board generator powers all of our mechanical equipment from pressure washers & vacuums to buffers & polishers.
A very important part of our equipment includes a working watch! We show up ON-TIME and complete jobs as quoted! Even clean-up is handled so when we leave all that is left is a beautifully clean and shiny vehicle! Feel free to call us with any questions you have regarding our equipment, we'd love to talk to you about the tools we use to complete the job!
We use only the highest quality products available and combine them with an experienced touch to make your car look the best it possibly can. We want you to feel confident that your car, motorcycle or RV is in competent and caring hands – and we're not satisfied until you are.
Professional cleaning that comes to you

25 Years of Proven Experience

Continuous Repeat Customers

Superior attention to detail

Proven process for each and every detail job

Expert workmanship on the job

Delivering the service when and where you want it

We guarantee your satisfaction
John does a excellent job cleaning my car. I originally met John at an Asheville Chamber event and won a free car cleaning. After this first cleaning, I sat down in what felt like a brand spanking new car! The entire inside was so clean that I was shocked! The messes and spills that the kids had created were completely gone. The outside was waxed and polished to perfection. He did such a good job for this first cleaning that I was so hooked that I decided to hire him to clean my car every Quarter. Love this guy and high recommend his service.

Jeremy Ashburn

I was impressed with Ideal Finish. They saved me multiple trips south by driving all the way to Weaverville to detail multiple vehicles at once. John and Leo were professional, courteous and did a beautiful job on both vehicles. I know it's difficult to tell from the before/after photo, but the carpet (my main area of concern) was restored beautifully in each of these older vehicles. Their prices were better than their competitors and they work on-site! These two factors plus the delivered results make them "a cut above" the competition. Highly satisfied!

Diana Brewer